July 20th, 2010
In February I made a business trip to Vilnius where I stayed for 5 days. During my stay I had a room at Hotel Rinno which suited me just fine.
Hotel Rinno is within walking distance of the old center of Vilnius and close to the train station as well. The only thing that might put people off from booking at Hotel Rinno was the fact that there is no elevator but for me it was no problem at all. The staff was very friendly and speaks different languages.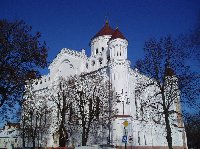 Trip to Vilnius
I spend five days in Vilnius in which my main concern was work but I did manage to explore the city center and taste a bit of the Lithuanian culture.
Some of the tourist attractions that are worth a visit are the Vilnius Cathedral, the Presidential Palace of Lithuania, the St. Anne's Church and the entire Old Town area of Vilnius.