July 26th, 2010
In February of 2010 we went to visit some friends who live in Thun near Bern in Switzerland. The luxuruy of having friends abroad is that we were their guests for our entire stay in Thun and they could fill us in on all the nice places to visit.
Thun is known for its stunning Thun Castle and Museum which has become an important site for tourists and locals alike. From Thun's main square and City Hall you can see the white pillars and red roof tiles of the castle and it really is a stunning peace to a beautiful city center.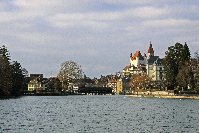 Travel Blog Thun
We loved the pittoresque feel to Thun and especially its Old Town has a lot of nice shops and little restaurants to try out the local produce.
Lake Thun is also very beautiful with in the background the Swiss Alps. We loved sitting on one of the benches in front of the lake and observing the birds and admiring the view. Especially in wintertime when a thick layer of snow covers the mountain peeks Lake Thun has something magical.