July 27th, 2010
After our three days in Moscow we travelled to St Petersburg where we stayed another three days to visit some of Russia's most visited attractions.
Like Moscow you'll find some very impressive architecture in St Petersburg and a very elaborated baroque style which unlike in Moscow was inspired by european architects.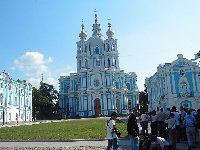 Travel St Petersburg
A good example of this St Petersburg style would be the Peter and Paul Cathedral, a Russian Orthodox cathedral and one of the city's landmarks.
But also the Kunstkamera museum established by Peter the Great is one of these fine buildings that decorate this beautiful part of Russia. Like these buildings you will encounter many more masterpieces in St Petersburg and the best thing would be to purchase a small travel guide and find your way through the city center.
We did several guided tours in St Petersburg which was really nice especially since we didn't speak russian but wanted to know more about the buildings and their history.
We visited the Old Saint Petersburg Stock Exchange and the Central Naval Museum it houses, the Saint Isaac's Cathedral that dominates the St Petersburg skyline, the Peter and Paul Fortress on Zayachy Island and so much more. Having a guide was so convenient that I would recommend it to anyone travelling to Russia and cities like St Petersburg and Moscow in particular because there's is just too much that is worth knowing and learning about.