October 14th, 2010
Last weekend my friends and I had booked a weekend to St Petersburg. We often go on city trips together just to spend the weekend exploring new places and breaking a week of work.
Especially if you're travelling within Europe or to travel destinations like St Petersburg which are a bit further away but still wel serviced by lowbudget air companies there's no need to pay a lot of money for an exciting holiday or weekend away from home.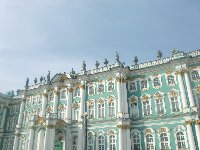 Travel Experience St Petersburg
We had booked two rooms at the Moscow Hotel, which funny enough is located in the heart of St Petersburg:)
The hotel was ok and made it easy for us to visit the tourist attractions.
St Petersburg is a really beautiful city and especially if you're a fan of Russian architecture you'll find it to be a small version of paradise.
Buildings like the Hermitage and the Church of the Savior on Blood have turned St Petersburg into a popular travel destination and like ourselves many tourists visit the city all year long. I remember how hard it was taking pictures and avoiding all the people at the same time!
We had a very nice weekend and the only thing I regret is that we didn't manage to book a boat tour around St Petersburg but I guess that automatically gave me a reason to come back here!