July 22nd, 2011
In May of this year I went to St Petersburg for a seminar from work and myself and three other collegues stayed there for a total of three days. It was my first time to Russia and I found it to be a really fascinating trip. (We flew with Aeroflot Russian Airlines which was a first as well and we had a great flight).
The weather wasn't as great as at the moment so visiting St Petersburg would be better in Summer when you will also find temperatures up to 30 degrees.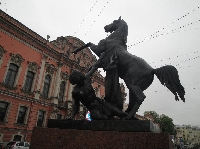 Vacation in St Petersburg
The city was really beautiful although at the beginning it was a little bit difficult making our way around the city as most people don't speak any English and well my Russian isn't that great..
This was also the reason why we ended up dining at McDonalds on our first night because there we were at least capable of pointing at the pictures on the menu board!