July 30th, 2010
The Apache Trail AZ is a popular road to drive in Arizona as it will take you along Road 88 and some of America's most interesting ghost town's.
Most people start their Apache Trail AZ road trip at Mesa which is located about 20 miles west of Apache Junction, the start of your Apache Trail adventure.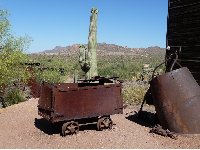 Travel Blog Apache Junction
I made this road trip together with some friends and we stayed the night in Mesa's Holiday Inn Hotel before driving the Apache Trail so we would be fit the next morning.
The Mesa Holiday Inn Hotel is also nearby the Phoenix Sky Harbor Airport which can be handy if you're flying in.
From Mesa we started our road trip in direction of Apache Junction and started to get in the spooky mood as the Supersticious Mountains came into view. After taking the AZ 88 turn off we headed to Goldfield, which is probably one of the first places on the Apache Trail that deserves a stop.
The ghost town of Goldfield unfortunately has lost it scary image and most parts of it are commercialised with little shops and bars. After Goldfield where we took quite some pictures we headed to the Lost Dutchman State Park where we learned some more about the golden era's of the mines in this part of Arizona and of course some real cowboy legends.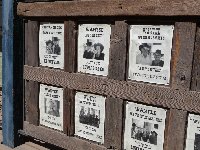 Travel Blog Apache Junction
More down the road on the Apache Trail you'll find Canyon Lake and the nearby Tonto National Forest which are really impressive. The road up to Canyon Lake is a bit rougher than at the beginning of the 88 so make sure you rent a car you can trust:)
From the rocky Tonto National Forest area we continued our way to the famous Roosevelt Dam built in the Salt River and the western town of Tortilla Flat. The Theodore Roosevelt Dam is definitely worth a visit.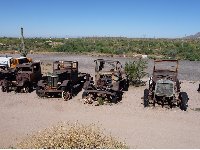 We drove down the Apache Trail to the Theodore Roosevelt Lake, the Tonto National Monument and the mining town of Globe that boomed many years ago for the great find of silver and copper.
Besides the rich history of Arizona and this fascinating part of the United States, the landscape is also really nice with enormous mountain cliffs and long stretching valley's. We had a great time, exploring the Wild West of the Apache Trail!