July 30th, 2010
Oman is such a beautiful country that I just can't help telling people about this magical place with its enchanting landscapes and friendly people.
One of the tours we did in Oman and which I really liked was the Wahiba Sands Desert Tour. Under the guidance of our two guides we took off for a short dune-bashing trek in Wahiba Sands which was the ride of a lifetime.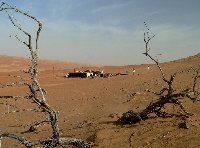 Vacation in Wahiba
Spotting wild camels in the Oman desertm, gazing at the beautiful forms and shapes of the sand dunes and even getting stuck with our rental jeep underneath the hot sun made my day, it wsa just such an exciting adventure!
The Wahiba Sands, or Ramlat al-Wahiba, are part of Oman's desert region and only inhabited by the Wahiba tribe. It was really intereseting meeting these Bedouins at their desert settlement and learning more about their culture and way of life.
The Bedouins live at Al Huyawah, which is an oasis near the desert border and live a very hard but also extraordinary life in which they depend on eachother and on everything else this arid ground can offer them. The tour was great, the guides really friendly and we really had a great time out in the desert!