April 28th, 2011
My family and I just enjoyed a wonderful holiday in my homeland Oman and stayed at the Golden Tulip Nizwa located out of town and in an almost oasis like setting.
Once a year we visit my parents and other relatives in Nizwa at about an hour, an hour and half by car from Muscat where we arrived by plane. The flight to Muscat was fine and as soon as we landed our rental car was parked in front of the airport so we just had to wait for our luggage.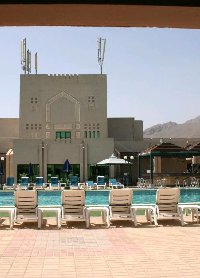 Travel Blog Nizwa
In Nizwa we checked in at the Golden Tulip Nizwa Hotel which is one of the best hotels to choose from in this area. The Golden Tulip Nizwa is a great way to stay if you want to enjoy a quiet time out of the city. We had booked a room for the next two days as later we would move in with my brother and his wife.
The hotel had beautiful and clean rooms, the kids loved the pool and it was also very comfortable to be able to enjoy the hotel's buffet arrangement.
As for Nizwa I would recommend tourists and visitors to fully enjoy the souk markets which is something my wife adores because of all the great local produce. The 1668 A.D. built Nizwa Fort is also an important attraction.