August 9th, 2010
This May my husband and I made a camping trip through the Unites States covering Colorado, South Dakota, Wyoming and Utah.
We arrived in Denver where we rented a large camper van with all the comforts and amenities that you could wish for and left for our US adventure!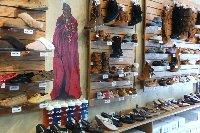 Where to go in Denver
From Denver we drove to the Rocky Mountain National Park in the north of Colorado where we stayed for two nights on designated camping grounds.
It was great to camp out here in this stunning part of Colorado and we enojoyed it very much. The Rocky Mountain National Park has a lot of beautiful wildlife and camping through this area will turn your travel experience into something really special.
After our two nights at the Rocky Mountain National Park we drove north along the Interstate 25 to the border between Colorado and Wyoming where we made a stop at Cheyenne and continued our way northwest to Laramie.