August 9th, 2010
From the state of Wyoming we drove east into South Dakota where we visited the Custer State Park and the Crazy Horse Monument.
The Custer State Park is a excellent park for campers and you can drive through this beautiful wildlife reserve looking out over the Black Hills.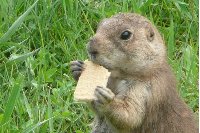 Tours Custer
The Custer State Park is home to the bison and driving through the park you will see large herds roaming freely while you try to soak up the fresh air.
Besides the bison you will spot plenty of other animals like sheep, antilope, burros, deer and the little curious prairie dog that will definitely try to make its way to your car to search for leftovers.
From the Custer State Park we visited the Crazy Horse Monument, a famous mountain Indian scupture in the Black Hills of South Dakota between Custer and Mount Rushmore.
Like The Crazy Horse Monument also Mount Rushmore, located near the town of Keystone, is definitely one of the major tourist attractions when you're visiting the Custer State Park and most visitors combine the different sites in a day trip around this beautiful part of South Dakota.
The Mount Rushmore Monument is world famous for the sculptures of the four former presidents of the United States, Washington, Jefferson, Roosevelt and Lincoln that represent the history of America.
Leaving the Custar State Park and the monuments of Crazy Horse and Mount Rushmore behind we travelled back into the state of Wyoming.