August 9th, 2010
We entered the state of Wyoming and headed for the city of Buffalo making a stop first at the Devil's Tower National Monument before we left the Black Hills completely behind us.
With our camper van we had crossed several national parks in South Dakota and from the Custer National Park we drove all the way up to the Devil's Tower National Monument.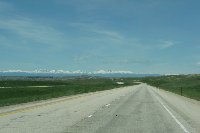 Holiday in Buffalo
We had read that the Devil's Tower was the first declared United States monument so we were curious enough to pay this giant monolith a visit.
From here on we travelled to Buffalo and the Bighorn National Forest, named at the Bighorn River and a great place to spend the night as there are several nice camping grounds withing the park. From Buffalo we drove through the Bighorn National Forest to Ten Sleep crossing the Power River Pass.