August 9th, 2010
From Cody we drove into the Yellowstone National Park which spreads from Wyoming to the states fo Idaho and Montana.
The Yellowstone National Park is known for its splendid nature and wildlife spotting and it didn't took us long to experience both.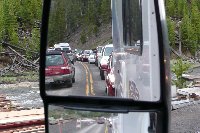 Trip to Yellowstone National Park
Driving down Buffalo Bill Lake into the Yellowstone National Park the panoramic views were breath taking and every now and then we pulled up the camper to step out and just gaze around.
Little after entering the park we encountered something that looked like a serious traffic jam but which turned out to be our first wildlife experience in the Yellowstone NP.
As soon as we got notice of what was going on, a mother bear with her young cub was roaming along the freely, probably looking for something to eat, we grabbed our camera's and joined the other drivers alongside the road.
That sight of this mother bear trying to look after her cub was really special and there couldn't have been a warmer welcome into the park.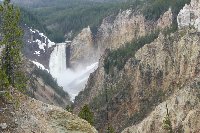 Trip to Yellowstone National Park
We also figured out how the Yellowstone National Park had got its name as we visited the Grand Canyon of the Yellowstone park with its beautiful yellow rocks and endless views over the canyon.
There are several geysers that are definitely worth waiting for as their eruptions are true explosions of water and are really impressive. Make sure not to rush through the park as there will be a lot of things to discover if you take the time to look around!