August 9th, 2010
Next stop on our camping adventure, Salt Lake City, Utah. We had left the Yellowstone National Park behind and were headed for the south to cross the state border.
Salt Lake City is the capital of Utah and one of the largest cities where the mining industry really boomed turning it into an economic center and gateway to the west.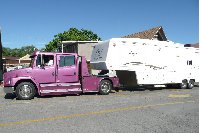 Tourism Salt Lake City
Salt Lake City is also popular for its outdoor recreation facilities and a lot of tourists come skiing here.
Compared to the other places we had visited Salt Lake City had a more urban feel to it and there was a lot of sightseeing to be done! We went to see the Utah State Capitol Building, The Salt Lake Temple and other important attractions and places to visit.
We had a great time in Salt Lake City and were happy we had included a visit in our busy travel schedule. We left the big city in search of another nice national park more down the road and headed to the Dead Horse Point State Park, a 4 hour drive south east of Salt Lake City.