August 9th, 2010
After visiting Moab we started to drive south in direction of Cortez, Colorado to the tip of our loop. From Cortez we would drive back north to Silverton and make our way to Denver with still some stops on the way.
Cortez was the place where we went to visit the Mesa Verde National Park which is known for its beautiful and genious cliff dwellings.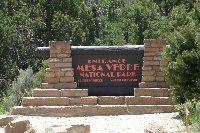 Where to go in Cortez
I had seen only pictures of Mesa Verde so since we would have to make our way back into Colorado it was a good choice to make a stopover in Cortez.
Underneath the giant cliffs there are ruins of an ancient community, called the Pueblo people, that used to live here in these dwellings.
Today the houses built by the Pueblo people are part of the Mesa Verde National Park which was added to the UNESCO world heritage list for its historic value. Throughout the park you'll find some pictures and a trail that explain the rituals and way of life of its ancient inhabitants.
From Cortez we followed the road to Durango where we took the Million Dollar Highway up north after an adventure that had taken us from Colorado to South Dakota, Wyoming, Utah and back into the green forests of this beautiful state.