August 10th, 2010
From Cortez we drove east to Durango and from there we headed north in direction of Silverton along the Million Dollar Highway into the San Juan National Forest.
Silverton located in the San Juan County, Colorado and is a former mining camp that today is visited mainly by tourists but once was part of a flourishing mining industry.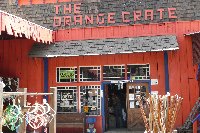 Tours Silverton
We learned about the history of Silverton and visited some old houses and saloons. From Silverton we drove further down the Million Dollar Highway to Montrose.
Most of the saloons in Silverton offer lodging as well and most tourists who want to experience what life was like around the mining camp choose to stay a night at a hotel here.