August 10th, 2010
A few km east of Montrose we travelled to the Black Canyon of the Gunnison National Park which south rim is absolutely stunning and from your car you'll have a great view of the canyon.
By camper the road can be tracky but speeding limits are really low, around 25, so you will be able to take your time.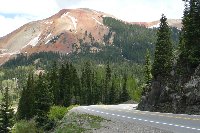 Holiday in Montrose
Inside the Black Canyon of the Gunnison Park we went to see the Painted Wall lookout which led us to a platform overlooking this giant black canyon wall with all kinds of white stripes running down the side of the rock explaining the name of the lookout.
The Painted Wall is also the highest sheer cliff in the entire state of Colorado so worth a visit if you're travelling through this area.
The great height of the cliffs garantee a breathtaking view down into the canyon and you will be able to see the Gunnison River running throught the Black Canyon.