August 10th, 2010
From Silverton in the south of Colorado we drove north to Hartsel where we made a quick stop to look around and visit some local sites before heading back and continue our road to Cripple Creek.
We drove through the Rainbow Valley to get to Cripple Creek, a small mining town and former gold mining camp southwest of Colorado Springs.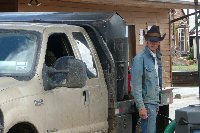 Travel Cripple Creek
We visited an old mine and went on a guided mine tour known as the Mollie Kathleen Gold Mine Tour and descended 1000 ft below the ground to learn more about the history of Cripple Creek.
The mine tour was interessant if your heading to Cripple Creek anyway but for it might be less exciting for the younger travellers as there isn't a lot more to see around here.
From Cripple Creek we passed Colorado Springs and drove to on of our final destinations, Manitou Springs.