August 11th, 2010
In Manitou Springs we took the train up the COG railway to Pikes Peak. The Manitou Railway goes from Manitou Springs to the top of Pikes Peak and is a popular tourist attraction.
Climbing the mountain of Pikes Peak the COG train which operates on the highest railway in North America, will take you to an altitude of 4300 m.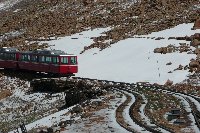 Travel Experience Manitou Springs
At the highest point at the top of Pikes Peak Mountain the train stops so tourists and visitors can enjoy the panorama for about 50 minutes before making its way back down.
When we were in Manitou Springs the train left a few times a day but in other months this might be less, depending on the number of tourists and weather conditions.