August 19th, 2010
My trip through Colombia together with my boyfriend started in the south of Colombia, near Pasto where we stayed at the Koala Inn, a great hostel and of the original backpackers hostels in Colombia.
In Pasto, also known as San Juan de Pasto, we prepared for our adventure up north through the inland of Colombia where we would head to Popayan, San Agustin, Bogota, San Gil and Barichara.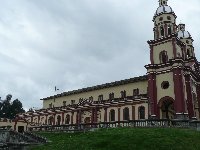 Travel Pasto
Our hostel was close to the Plaza del Carnaval, a local skaters paradise and a hangout palce for the youth in Pasto.
We also visited the cathedrals of Iglesia de San Felipe and Iglesia de Santiago, both beautiful contructions that add up to the pittoresque streets and calle's of Pasto that are perfect for taking pictures or a walk through town.
From Pasto we travelled up north by road to Popayan which lies between San Juan de Pasto and Cali, in the south of Colombia.