August 19th, 2010
From Popaya we travelled to San Agustin where we headed to visit one of the country's most important pre-Colombian archeological sites.
The archeological finds at San Agustin are all recognized by the UNESCO World Heritage list and an important tourist attractions for tourists and Colombians aswell coming to this part of Colombia.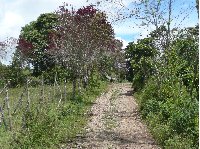 Trip to San Agustin
From town you can go on several tours to visit the Indian site of San Agustin and we decided to go on a guided horse ride tour.
The horse ride tour was a lot of fun and the landscapes beautiful. We crossed banana plant fields, coffee plantations, sugar cane fields, picked some citrus fruits and rode over some of Colombia's greenest hills.
The tour led to a site with all kinds of ancient indian statues, some of which were really funny and were a good display of how the Indians in pre-Colombian times used their sense of humor in their cultural symbols.
Our guide Humberto also showed us the leaves of a coca plant and explained us the use of this plant and others by the local communities.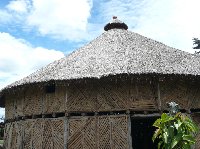 Trip to San Agustin
The archeological park site was really interesting and we visited some ancient graves and a lot of other statues. The Spanish discovered the site a long time ago and smashed some of the statues hoping to find gold hidden inside them. As a result of these violations you'll see broken off statues everywhere around the archelogical park of San Agustin.
The best part about the Indian carvings are hidden in a sort of fountain or waterway. Looking through the water that runs down the rocks you'll be able to see small faces and fugures carved in the rocks. For interesting details take a closer look at my pictures!