August 20th, 2010
From San Agustin we travelled up north to Bogota, the capital of Colombia and the most visited city in the heart of the country.
Bogota is known as a very hectic place and not a really safe place eaither but I guess you'll have no problems if you prepare your trip to this part of Colombia well.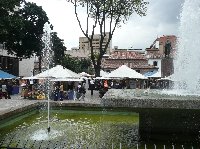 Tourism Bogota
Bogota is also a popular tourist drawcard and it is a familiar stop on the way for backpackers and other tourists not only as the capital of Colombia but because it's a beautiful colonial city with a lot of things to do.
As soon as we arrived we saw some armed policemen on the corners of the street doing their daily check up which reminded us of the poor conditions the people in Colombia live in but luckily we had a good stay in Bogota.
Bogota is also known for its many museums and we visited some of them like the Military Museum, the Botero Museum, Gold Museum in the neighbourhood of Calenderia which has the largest collection of golden items from pre-Hispanic times in the world.
We alsp had a peek at the collection of the most wanted thugs of Colombia at the Museum of the local police station, which in the end was even more interesting considering their large collection of Pablo Escobar items. They had it all from mug shots to life size dolls and their favourite rifles.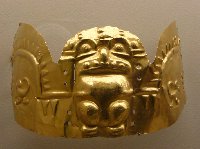 Tourism Bogota
We also went to see the Cathedral on Plaza Bolivar and paid a visit to La Candelaria, an historic neighborhood in downtown Bogota with beautiful churches and little streets.
This Old City is filled with gorgeous colonial houses and baroques style churches and museums like the Bogota Gold Museum we visited.