August 21st, 2010
From Bogota, the capital of Colombia, we travelled to Villa de Leyva which is located in the Bogota Department and has the same colonial beauty as many other towns and settlements in this region.
In Villa de Leyva we visited the El Fósil Museum where we went to see some very impressive and ancient fossils on display. The Museum is most known for it's Kronosaurus fossil, which would be one of the most largest dinosaurs that has existed on this planet.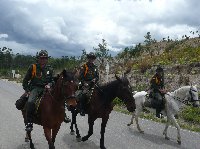 Travel Blog Villa de Leyva
The fossil belongs to a 180 million year old Pliosaur, a marine reptile that apparently used to inhabit Colombia in way earlier times.
Our visit to the El Fósil Museum was really interesting and we also saw a lot of the more rural landscape which was nice.
We also visited El Infiernito, a pre-Colombian site of the ancient Muisca people that lived in Colombia when the Spanish invaded it around 1537. The site of El Infiernito is located at about 30 min from of Villa de Leyva.