August 23rd, 2010
Four years ago me and my wife went on a three weeks dream holiday to Zanzibar, Tanzania. We had booked our trip through our local travel agency which had done an excellent job as usual.
We stayed at the Pongwe Beach Resort Zanzibar which was a true paradise on earth!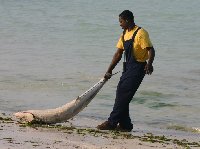 Tours Pongwe
The Pongwe Beach Resort Zanzibar is located in Pongwe, a small village south of Kiwengwa on Zanzibar's gorgeous east coast.
We had been to Tanzania before but this time we decided to dedicate ourselves to an entire relax holiday on the beach instead of going on jeep safari's like most other visitors.
Most people combine a visit to Tanzania with an island experience on Zanzibar afterwards which is also a great thing to do but since we had already seen some of the national parks on the mainland we wanted to enjoy the beauty of Zanzibar a bit longer.
The Pongwe Beach Resort Zanzibar was more than perfect and had everything arranged from the beautiful cottages on the beach, to 5 star dining and private boat charters up the reef.
From Pongwe we also visited Stone Town, the old part of Zanzibar City, the capital of Zanzibar which is located on the west coast of the island at about 30 km southwest from Pongwe Beach to the other end of the island.