August 31st, 2010
The Island of Guernsey is still a British territory eventhough it's not a part of the United Kingdom, a situation that could be compared to the state of Isle of Man which is located in between the UK and Ireland.
Guernsey instead is located more to the south and just a ferry ride away from Saint-Malo in France.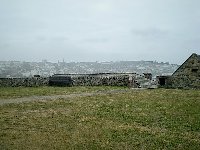 Travel Blog St Peter Port
As a result of this position the language spoken on Guernsey are both English and French which can be convenient for travellers from different countries.
During our holiday in Guernsey we stayed in St Peter Port, or Saint Peter Port, the capital city of Guernsey. The town is small but has a lot of nice features and sites to visit.
Finding a hotel in St Peter Port isn't difficult and most of them will be located along the esplanade or by the harbour.
Besides the sightseeing we did here we also took a boat ride to the island of Sark which is a popular tourist itinerary and we also made a trip to the Castle of Cornet where we paid a visit to the Maritime Museum which is incorporated in the Guernsey Castle.
During our stay in St Peter Port we stayed at the Best Western Moores Hotel which was an excellent hotel with a very friendly staff and clean rooms.