September 2nd, 2010
Merzouga, Ait Benhadou, Dades & Todra gorges - 3 days.
Merzouga is ideally situated at 40km from Erfoud & 40km from Rissani, known by its magical and highest dunes in Moroccan Sahara desert, on last few years, it became one of the most visited places in the southern Morocco combined with tours around the high Atlas Mountains or the imperial cities, it allow travellers to see the sun shine and sun set, we let you discover it yourselves on your own way.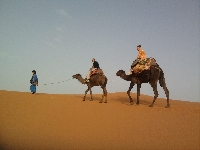 Camel Trek Merzouga dunes
Day 1: Marrakech - Ait Benhadou - Dades valley
We departure from Marrakech at 7:00 am in our air conditioned vehicle. Traveling over the Atlas mountains, we enjoy spectacular views of the region below us.
On the way to Ouarzazete, we have a visit to the Kasbah of Aït Benhaddou.We then enjoy a visit to the Valley of the Roses.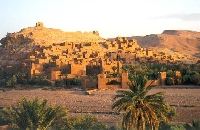 Ait Benhadou Kasbahs
Our overnight accommodation is in a local guesthouse in this beautiful valley. We enjoy a Moroccan dinner and evening with beautiful views of the Dades valley.
Day 2: Dades valley - Todra gorges - Merzouga
After breakfast at the hotel, we Departure for the Todra Gorges, stopping off for an opportunity for lunch along the way.
Upon our arrival at Merzouga, with the highest dunes in Morocco, we transfer to our Camels for a one and a half hour camel ride at sunset.
Reaching our desert camp for the night, a local Berber dinner, perhaps a little entertainment and drum party. You can choose to sleep under the stars or in tents at our desert camp.
Day 3: Merzouga - Marrakech
We awake early to enjoy the Views of sunrise in the desert. Shortly after breakfast, we join our Camels again to ride back over the dunes to return to our waiting vehicle at Merzouga.
We then enjoy the route return to Marrakech over the high Atlas Mountains and arrive back at Marrakech at 7h30 or 8h00 pm.
More informations on this web site:
atlasandsaharatours.com