February 7th, 2010
Definitely the best trip I have ever made! Maybe some of the places I visited weren't fascinating for their beauty but they all had their charme. I travelled to Casablanca, one of the most industrial cities of Morocco if not of the whole African continent. From there on I travelled through the centre of Morocco, the territory of the Berber people and a very poor but at the same time beautiful region of this country with lots of stunning places to visit.
I travelled from the coast to the snowy mountains and the desert of Morocco, and that all in the same day! Some small towns are hard to forget because of their beauty but others are printed in your memory because of the bad conditions the people live in and the poverty and hunger you came across.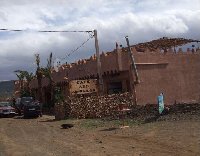 Walking around Ouarzazate
I visited the small village of Ouarzazate only a few chilometers from the desert where I stayed for two days. I sure can say the whole trip to Morcocco was an experience I won't forget and having seeing both negative as positive aspects of life there I would definitely go back there for a second journey!
I really liked the city of Mohammedia which is located on the sea and fills you with such a great feeling of tranquility. Mohammedia is also one of the more welthier parts of Morocco which attracted a lot of foreign investors.
My visit to Marrakesh was a bit disappointing because it was the city where I was the most curious about but in the end I found it way to chaotic with very little to actually see or visit. Of course, travel experiences are personal but a lot of people just travel to Morocco to see Marrakesh which I dont understand. Be aware of your belongings on the airport and try avoiding all the greedy tourist guides offering their services to accompany you on your city walk.
Casablanca deserves a visit but wasn't the most impressive place to me either. I would recommend spending a few days in and around Ouarzazate, you will love the stunning landscapes! I still regret not having seen the waterfalls of Ouarzazate because they have to be even more beautiful. The best way to explore the region around Ouarzazate would be to take a desert tour which includes a sleepover in a real berber tent to get the most out of your Moroccon adventure!