November 9th, 2010
When you're travelling to the Sahara Desert you have to stay at the Kasbah Hotel Sahara Sky, a true oasis near Zagora, in the south of Morocco.
The Kasbah Hotel Sahara Sky is located in the Dunes de Tinfou, near the airport of Zagora.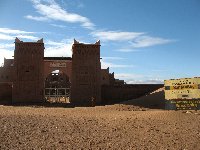 Travel Blog Zagora
This makes it not only an incredible and enchanting place for its scenery but also a very good travel destintation for its location and access.
I stayed at the extraordinary Kasbah Hotel Sahara Sky with my family to celebrate my cousin's wedding and the setting of this hotel in the middle of the Sahara Desert added up to the uniqueness of the whole celebration.
The hotel is the only hotel, I think in entire Morocco, which has its own Sahara Sky Observatory which gives you the opportunity to gaze at a million of stars which at night look out over an endless desert valley.
Of course the rooms were beautiful, what else to expect from a 3/4 star hotel like this, and the staff always friendly. My cousin had a great wedding with a beautiful ceremony and enough activities during the days after. We went for a desert camel ride but you could also choose to go horse riding, join a hiking trip or simply relax.
In total we stayed for five days at the Kasbah Hotel Sahara and had a fabulous family vacation which I would recommend to any traveller looking for a unique Morocco and Sahara desert stay.