December 31st, 2009
Casablanca is Morocco's largest city and definitely worth a vist. Imagine there are only a few mosques in the world which are greater in size with the biggest mosque in the world being the Majid al-Haram in Mecca. It's minaret whit its amazing green and turqoise colours is the tallest in the world though at 210 m.
One of the most popular attractions in Casablanca would be the Hassan II Mosque which is also interesting to visit because it's the only where non-Muslim are allowed to visit.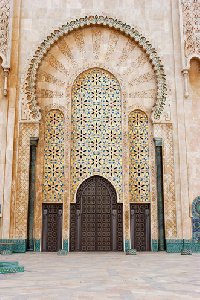 The Entrance of the Hassan..
You can either visit the mosque by your own transport or take a tour around it. Keep in mind though that the tours are organized around prayer times so the best thing would be in the morning or early afternoon if you don't want to miss out. Tours run at 9 am, 10 am, 11 am and 2 pm.
The enormous Hassan II Mosque was build in honor of the King's 60th birthday ands it's definitely the pride of Casablanca.The entrance is so gorgeous and if you take a picture of the mosque from nearby you'll notice all these magnificent details.