May 17th, 2011
After a long flight to Cassablanca and from Cassablanca to Fes we all arrived safely in Morocco to enjoy a well deserved family holiday. We checked in at the Hotel Olympic which was going to be our home for the upcoming 5 days.
The hotel was very comfortable and had a convenient location in the Ville Nouvelle, the newest section of Fes and one of the three districts.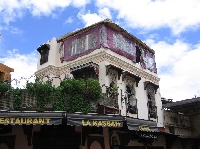 Travel Experience Fes
The other two districts in Fes are the old walled city of Fes el Bali and the newer Fes-Jdid which was created before the Ville Nouvelle section.
We had a Lonely Planet travel guide of Morocco which also contained a lot of handy information on Fes and things to do, where to go and more of those inside traveller advices. We did a lot of sightseeing and one of the first sites we visited was the Royal Palace of Dar El Makhzen located in the Fes-Jdid district.
From the palace we walked in direction of Mellah, the Jewish quarter of Fes and known as a quarter that was seperated from the rest as the people who lived there a minority.
From the newer Fes Jdid we continued our way to Fes el Bali where we went to the Bab Ftouh cemetery but also got a lot of insights in the culture of Morocco. We visited a traditional ceramic pottery factory where ceramic and pottery are still made. We also had a look at a leather tannery and were amazed by the manual labor that goes into this hard work. Visiting these places was really interesting and showed us a different side of Fes.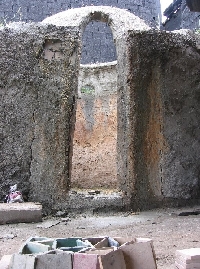 Travel Experience Fes
We had dinner near the Bab Boujeloud Gate which leads to the Medina of Fes El Bali and a clutch of restaurants and visiting Fes you will be likely to cross this point of one of your sightseeing walks.
Being non-islamic tourists we were lucky to be able to visit the Bou Inania Madrasa as this is one of the few religious sites in Morocco that is made accessible to all. A madrasa is a religious but at the same time educational institution similar to the Al-Qarawiyyin University we visited.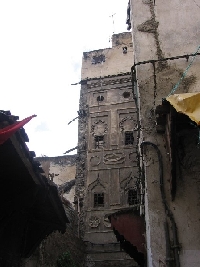 We had a wonderful time in Fes and were happy to stay at the Hotel Olympic but also were very pleased with all the things we got to learn and see during our time there.