September 4th, 2010
My and my friends went on a bus tour from Long Beach where we live to San Diego. We had a lot of fun and went to the beach which is the best in California but we already knew that:)
We also visited some cool places in San Diego like the San Diego Zoo, the Balboa Park and we went to see a game of the San Diego Padres to top the list.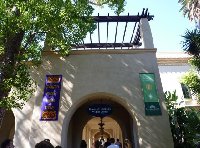 Travel San Diego
Oh, for I forget we also bought tickets for Sea World San Diego which was really cool. I'll probably post those pictures in a different blog as there are quite a few.
Our holiday was really relaxing and we spend most of our time on the beach enjoying the great weather while at night we went out. As for dinner there were a lot of nice restaurants but we simple loved the San Diego McD:)
After a week it was time to get back to Long Beach by bus which was ok. I'll definitely come back to San Diego but maybe next time with my own car and not by bus as it wasn't that comfortable.