September 6th, 2010
A second blog dedicated to my trip to Sea World in San Diego where I went on a holiday together with my friends.
We came up with the idea to visit Sea World when we got handed a pamphlet at the mall and decided to head there the day after.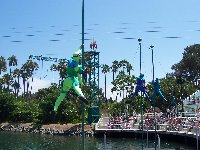 Vacation in San Diego
Tickets to Sea World in San Diego at the time costed $59 pp but that could have been a special price, I don't remember exactly.
At the counter you could also purchase week passes or even combo passes for access to both Sea World in San Diego as the Universal Studios in Hollywood.
The shows at Sea World were just crazy, especially the Shamu Show with the unique killer whales was almost surreal and definitely worth the tickets. The whales come so close to the benches and the tricks are pretty cool.
Besides the Shamu Whales the park has a lot of other great shows to watch with sea lions, dolphins and other mammals.