July 20th, 2010
San Diego lies about a two hour drive south of Los Angeles and just above the border between the United States and Mexico.
It's also one of the largest cities of America and therefor definitely worth a visit. To get to San Diego from Redondo Beach where we stayed we rented a car for a two day trip.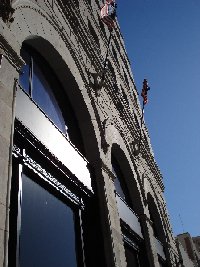 Travel Experience San Diego
We spend two days in San Diego where the parents of my friend had a second holiday home so we didn't need to look for a hotel.
In San Diego we did some sightseeing and went to the San Diego Balboa Park which is located right in the center of San Diego and is filled with restaurants, shops, theaters and even the famous San Diego Zoo.
We stayed in the Balboa Park for a couple of hours on our first day and had a great time there. The weather was perfect and we visited the Botanical Garden's, had lunch in one of the restaurants along the boulevard and went to see some other sites in the park.
Great attractions in the San Diego Balboa Park include the Casa de Balboa, The California Bell Tower and San Diego Museum of Man. Let's just say we spend one day of our stay in the park and the other to explore Downtown San Diego and its beaches.