May 4th, 2012
The San Diego Bay is a nice place to come for a walk along the harbour or to go jogging. It lies south of Downtown San Diego and is known for its nice views over the water.
We also tried some traditional fish and chips at Marion's Fish and Chips Restaurant which was really tasty.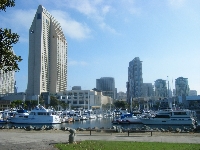 Travel San Diego
Coronado the peninsula that guards San Diego Bay is also worth a visit for the nice views or many harbor cruises you can go on. Also make sure to check out the local marine life as San Diego Bay is home to many fish and bird species and of course the seals.
North of San Diego Bay lies Mission Bay and the seaside community of Point Loma to the west where the Cabrillo National Monument offers some amazing views.