September 7th, 2010
From Picton we travelled to Blenheim in the northeastern tip of New Zealand.
Blenheim is known for its spacious landscapes and with its rich vinyards Blenheim is also known as the heart of New Zealand's wine industry.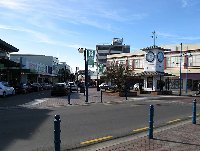 Holiday in Blenheim
Besides a wine capital Blenheim forms the seat of the Marlborough Region and a popular place to visit, like in our case, if you want to travel all the way to Kaikora.
Seymour Square forms the heart of Blenheim and a great place to go for walks in the evening or maybe even picnic in the park during the day.
If you're passionate about hiking the Wither Hills just outside of Blenheim might also form an attractive travel destination. We didn't go there because we decided to continue our way towards Kaikoura and the east coast of New Zealand's South Island.