September 24th, 2010
The road trip from Cairns up to Cape York, the northernmost tip of Australia, is probably one of the most challenging tours but without a doubt a travel experience you will never forget!
With three good friends I planned a roadtrip up and camping tour from Cairns, in Queensland, to the tip of the Cape York Peninsula.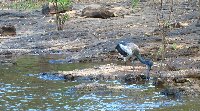 Travel Blog Cape York
Before hidding the thick jungle forests we passed some small towns like Coen and Laura on our way up north. Here road conditions were still pretty good.
Of course, it also depends on the season and year you're travelling in but the best thing probably is to check those road conditions and weather forecasts while you're in Cairns, or from where you wan't to start driving northwards.
The roads went from rough to impossible and sometimes we had some intense discussions about whether to cross a road or not. We agreed unanimously on not crossing the river full of saltwater crocodiles though as we literally saw them floating around from our 4wd windows..
In the end we had an amazing adventure and the feeling of reaching Cape York was the best I have ever felt, I was so proud of us:) As a group we bounded a lot and had a lot of fun, even when one of the tyres gave up on us and things weren't looking so bright..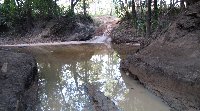 Travel Blog Cape York
Camping in the bush was also really cool and it was we were the only ones in that specific part of Australia.
I would recommend a camping tour to Cape York to anyone with a bit of adventure in his or her spirit but make sure to prepare otherwise you might regret going on this trip haha. O and don't forget your camera!