October 20th, 2010
One of the places I absolutely loved in Western Australia is Broome, the perfect base for an relaxing and at the same time adventurous and exciting holiday.
Being not too far away from the Kimberley area there are a great number of tours and day trips you can choose from and one of the tours we did was the Tunnel Creek National Park tour.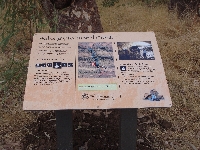 Holiday in Fitzroy Crossing
We did have a rental car in Broome but it's not advised to head into the Kimberley region on your own or with a vehicle that can't be trusted.
The road conditions can vary from day to day and depend on weather conditions which are pretty extreme in this part of Western Australia. While the dry season will clear out roads the rain season will close just as easily making it a very adventurous travel destination.
The Tunnel Creek National Park is a popular tourist attraction and you can arrange all kinds of travel packages including tours to the Windjana Gorge or the Geikie Gorge, all near Fitzroy Crossing, or if you decide to sign up for a sleepover tour instead of a day trip you should head to tje Kakadu National Park.
In October it was pretty hot in Western Australia and temperatures were extreme. When we left Broome early in the morning for our trip to Tunnel Creek it was already 30 degrees. When we entered Tunnel Creek, we were up to 40 degrees!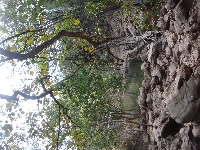 Holiday in Fitzroy Crossing
I was happy the tour was well arranged with an experienced guide who had enough water bottles for everyone and had set up a refreshing lunch in the shade of the trees when we arrived.
Tunnel Creek National Park was really nice and after a walk through a long tunnel created by a rock opening which was once the home of aboriginals we arrived at this calming pittoresque creek where we could witness some carvings and rock art. From Tunnel Creek we headed to Geikie Gorge and Windjana Gorge where we spotted some real crocodiles and via Derby we returned to Broome.