October 27th, 2010
My and my husband have been on a holiday to Venice, Italy and stayed there for week to enjoy the world's most romantic city.
Being from Las Vegas, the only Venice we had ever seen would be the Venetian Resort which has a life size replica of the city built in it's hotel lobby.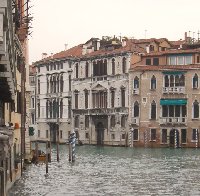 Travel Venice
Of course you won't find the whole city of Venice inside the resort but you can actually go on a gondola ride.
Anyway, thinking before that was a romantic experience we did not know what to expect when we really were heading to Venice.
And boy, does the Venetian has some serious competition! We stayed at Hotel Rialto in Venice which was absolutely perfect.
I loved every single thing about our holiday from the pigeons on Piazza San Marco, the amazing gelato's and of course our gondola ride through the canals of Venice. What a gorgeous place!
We went on an extended gondola tour which took us along the palazzo houses of central Venice but also into the neighbourhoods lying more inland. The canals were so narrow and our gondolier pretty skilled if you would ask me. The ride was almost magical and we just sat there gazing at eachother and all that pretty scenery we kept passing by.
If you're looking to go on a romantic holiday with your partner or fiance Venice is definitely a great travel destination and you could easily make it through an entire week. O and don't forget to purchase some of the beautiful souvenirs to bring back home. The masks and glass art work is stunning!