June 24th, 2011
I got the idea to share this blog with all the romantic soles out there looking for the perfect destination because I myself fell in love with Venice as I visited this beautiful city on the water for the first time last year.
I had been to Italy before but Venice like any other city in Italy surprised me, again and that's what I love about this country! Whether you will travel to Milan, Naples, Rome, Venice or Palermo you will see a completely different city upon every arrival.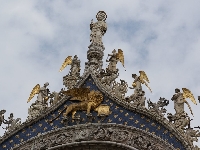 Travel Venice
The food is always fresh and local, the people speak with different accents, the squares compete at an architectual level that isn't to be found in any other country and there's such a dreamy and adventurous thing about travelling through Italy, to me it's like a pastery shop where you don't know which slice of cake to pick.
But this time it will be Venice again, for the second time but this time I will visit with my fiance who has never been to Italy so it's time I'll let her taste some of the good life! We're leaving next week but to let you in on some of the beautiful sights in Venice I added some pictures of my last trip. Who knows if turning this visit into a romantic trip can make Venice even more beautiful, well it is the city of laughter and love so I guess we will be more than ok!