March 7th, 2010
Venice is known as magic place and famous for its large lagoon positioned in between the quarters, its characteristic gondola's and the canals which connect all the different parts of this Italian city.
Venice is also one of Italy's most ancient cities and a perfect travel destination for a romantic couples' getaway or honeymoon.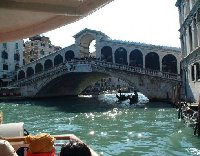 Gondola trip through the..
The stone arches which bend over the canals and the calli, the steep streets leading to Piazza San Marco add up to the enchaunting aspect of this city, a magical labyrinth.
Piazza San Marco is the main square of Venice and known for its annual carnival celebrations which attract a lot of tourists and are of great value to the locals.
During the carnival you will be able to experience an impressive masquerade balls with characters that will take you back to the Middle Ages and even further, a dream world that goes beyond a travellers immagination.