October 15th, 2009
We arrived in Coral Bay by car driving south from Exmouth. We decided to drive early because of the road kill risk later in the afternoon. When the sun starts to set the kangaroo's become attracted by the lights of the cars and tend to jump over the road in a way that makes it really hard for you to not hit them. Because of their bad sight the light confuses them and they start to hop everywhere. For example during our nightly bus ride from Broome to Exmouth the driver hit several roo's and also on our way to Coral Bay we saw so many dead kangaroo's that you almost get used to the sight of road kill..
Once arrived in Coral Bay we were so delighted by the beauty of this turistic hotspot that we rushed our way to the beach. The waters are so clear it's unreal and you can see huge fish coming up the shore. Be sure not to touch them because they will bite you ( they stole my apple!).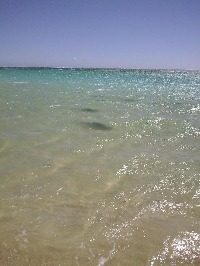 Reef shark
Just a short 20 min stroll down the beach you'll arrive at Point Maud where you can see mantarays swim and visit the amazing shark breeding ground where a big number of reef sharks swim in front of you. ( just a meter or two from the shore!) You shouldn't be swimming here..
Back at the Ningaloo Reef Resort where we stayed for two days we prepared ourselfs for a sunset quod desert tour that we booked a few hours earlier.
The tour was so cool and it was almost private as we and another man were the only riders.
The guide, a young guy from England who stuck around in Coral Bay after travelling around, showed us all the cool spots along the coasts and gave us a lot of freedom on our quods. Sometimes a little too much as we got lost... My quod had a problem that took one second to resolve but the other guys were already out of sight so we started looking for our way back to them on our own instinct..Never do that, stay where you are as they will find you! :)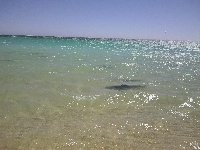 Sharks!
Anyway not following that advice we rode off in the dunes and got stuck there..Luckily the guide found us a minute later and we got home savely after an amazing and very cool quod tour!