December 19th, 2009
Rottnest Island is one of Western Australia's rough diamonds. You just hop on the ferry from either Perth or Fremantle and before you know it you're in paradise!
Rottnest Island can be pretty touristic but if you can avoid the december months you should be fine. The best way to explore the island is by bike. The bikes can be rent for a few hours or for the day and prices start at about 20 AUD pp.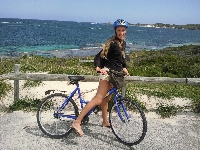 Biking around Rottnest..
They'll give you a map with all the good sealed roads and the good points to take a break. The roads will lead you up to the lighthouse along the stunning coastal wonders of the island.
Cycling over the hills you will see some amazing bays and beaches which are perfect for a break on the beach. We headed for the lighthouse and stopped at several shell and sand beaches which were almost all deserted so we could take some amazing pictures.
On our way back we decided to cycle more inland and came accross some splendid lakes which bursted with birdlife. Wondering where all the quokka's, Rottnest Island national symbol, went we found a group of them when we arrived back in town.
The first quokka I saw was huge and it just hopped on one of the towns central streets. Rushing for my camera I realised I'd seen my first quokka! They're so cute:)
Arriving at the main street where you'll find all of Rottnest Islands shops and eateries we found all of his little friends too.