October 21st, 2009
Before arriving in Rockingham we'd already bookend a Swimming with the Dolphins tour through the website of Wild Encounters Rockingham so we were quite enthusiastic about our stay here.
After an amazing breakfast at the Anchorage Guesthouse, which we can strongly reccomend for its lovely setting, high standards, clean rooms, huge variaty of books ans dvd's and just lovely owners Jan and Neil, we drove off to the Rockingham Jetty where we were expected at 7.30 am.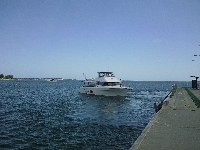 The boat on the Rockingham..
The tour was in one word AMAZING and not only did we swim with the dolphins but they kept circeling around and underneath us! There were at least two mums with their calfs who kept coming back to play with us which was so cute and even when we got out of the water they swirled around the boat waiting for us to get back in.
One of the divers told us that in their 20 years of touring and swimming with the dolphins they never feed the animals or reward them in any other way so they take some time out of their hunting schedule to come and play by themselfs:)
They also told us that we should never try to touch the dolphins as that would damage their health conditions severly and could leave them with some serious scarfs or open wounds because of the soft tissue protecting their skin.
Without touching the tour was so special and for us it was one of those one in a lifetime things that you just have to do! Back on the boat the dolphins swam through the water jumping one after another which was a great way to end the tour!