October 21st, 2009
After Rockingham we drove south to Dunsborough. On our way we stopped in Mandurah, Bunbury and Busselton where we went take a look at the longest jetty of the southern emisphere. The Busselton jetty is 2k long and is the main tourist attraction in this cute seaside town.
After taking some pics and doing some grocery shopping for that nights barbie we headed to Dunsborough. We stayed in a truly magic hotspots and swopped our B & B rooms for a real train carriage!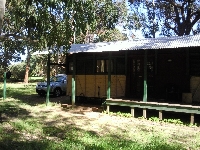 Veranda
This park bought and rennovated old train carriages and turned them into accomodation with room enough for sleeping, dining, showering and everyhting else you might need.
Outside of the veranda there's a comunal BBQ and inside the kitchen is fully equiped to prepare whatever you'd like. We bought some shake pancake mix and baked those in the morning while we used the BBQ outside to roast our Aussie meat:)
But the best part is that the carriages are set within the cuties forrest with all kinds of animals from chicken and horses to lama's, kangaroo's and even tiger smakes!
To our surprise we ran into one of those poisoness ' little' -2m- creatures while feeding the kangaroo's early in the morning! The park ranger told us that we were lucky it ran away before stepping on it as it could bite you...Also the change to run into a tiger snake in the place we did was about 1 a year..
Look up tiger snake on google, pretty scary:)