November 22nd, 2010
Monterey was another town which we paid a visit on our roadtrip from San Francisco to Los Angelos and what better to do in Monterey then visit the popular Monterey Bay Aquarium?
We got the acquarium tickets and were in for quite a show as the marine life on display here is incredible!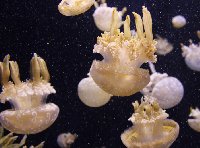 Holiday in Monterey
I was so fascinated by the different types of jellyfish and thought they were so beautiful, with their colourful tentacles and unexpected movements.
The visit to the Monterey Bay Aquarium was definitely a great idea and a good way to combine coastal drives, cultural town visits with doing something fun at the same time.
The Monterey Bay Aquarium had more than just animals on display and also organized dolphin shows and other type of entertainment for children as well. Great value for your tickets!