November 25th, 2010
Last weekend my parents had rented a cabin at Lake Tahoe to invite everyone on a family weekend getaway and it was a lot of fun.
The cabin was big enough to fit the whole family and had room to for our luggage, bbq equipment and other stuff. It was a good family time away from home, something we should definitely do more often.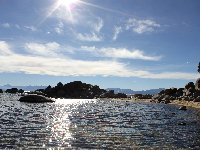 Holiday in Lake Tahoe
Lake Tahoe is a place my parents have been coming for as long as I can remember so I guess it holds a special places in the family heart:)
It's a great place to spend a weekend outdoors at the lake and there a lot of activities you can join like fishing, hiking, going on boat rides and even skiing in wintertime.
There's actually a Lake Tahoe Gondola Ride to get you up the hills and while you're skiing down hill you will have the most amazing lakeview possible. Anyway a great weekend getaway destination!