October 27th, 2009
On our way to Denmark temptation was just a little bit to big when we read the sign Fudge Factory--> so we decided to take a look and a tast:)
The Fudge Factory is pretty close to Denmark, about a 20k drive from town centre and houses some great peaces of sweets! The road leaving the main highway takes you through a 100m of farm land with cows and sheeps which are probably put there to explain the turists where the fresh milk comes from..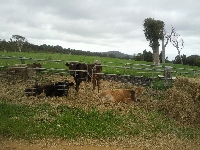 Real Denmark Cows:)
The factory itself is very smal and has a little shop attached to it. The lady at the counter had al kinds of fudge samples prepared and there was a table set up for a real fudge tasting.
The ' just one piece a person' sign didn't hold us back from trying every single type of fudge the factory had to offer:)
Of course we also bought some sweets to take home!