December 8th, 2010
Last April my girlfriend and I travelled to Tanzania where we spent a two week holiday before heading to dream bounty island, Zanzibar.
It was the possibility of combining a jeep safari holiday in Tanzania with a beach holiday on an island as exotic as Zanzibar that won us over.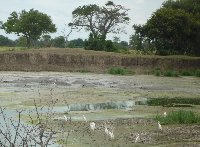 Tours Mikumi
Tanzania has several national parks with the Serengeti being the most visited one of them. We also visited the Mikumi National Park, in central east Tanzania.
The Mikumi National Park is the fourth largest game reserve in Tanzania, after the Serengeti, the Ruaha and the Katavi National Park. To reach the park you can either join a tour from Dar es Salaam, the largest city in Tanzania which lies at lies at approximately 175 miles from Mikumi or fly there on a private charter.
Eventhough the Mikumi National Park is known for its incredibile flora as its territory is home to the Mkata River and borders with the Uluguru Mountain Range it's also a perfect place to spot wildlife and go on a jeep safari.
We spotted giraffe's, whartogs, lions, zebra's buffalo's, elephants, antelope and an incredibly colourful wildlife.