October 28th, 2009
We arrived in Albany early early in the morning as it would have been the first stop on our long way to go back to Perth. The idea was to visit Esperance as well but as it was impossible to drop off or rental car over there we decided to drive the car back.
In Albany we visited the Tornidirrup National Park and its popular The Gap and Natural Bridge, two attractions you shouldn't miss out of driving through this part of Australia because they are truly amazing!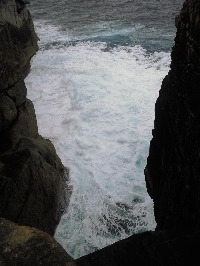 Water flows at The Gap
The Natural Bridge is formed by a huge set of coastal cliffs and rocks which eroded by natural influences as wind and water waves which sculptured a natural bridge hugging the enormous ocean; pretty cool!
Beware of the danger while up there because there are no fences and the wind can be pretty scary during cloudy days.. The Gap is located just beside the Natural Bridge and forms an enormous gap between two big coastal cliffs. When you stand above the gap you will be able to take some amazing photos but again..don't fall in there!
Unfortunately we didn't had too much time around Albany but we were happy to spend some time in this area. We also visited the blowholes which are located nearby, about 3 k from The Gap.
The blowholes are formed by round cracks and holes in the coastal rocks and during stormy days the ocean pumps her big waves through these holes creating a natural fountain between the rocks.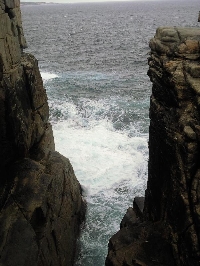 The Gap
After Albany we headed north to visited the Wave Rock in Hyden and take a break from our roadtrip back to Perth.