October 29th, 2009
Wave Rock near the outback town of Hyden is without a doubt one of Australia's natural wonders and we wanted to visit the Wave Rock long before coming here. Considered the fact that we had to drive our rental car back from Albany to Perth we chose to make a stop at Wave Rock.
From Albany to Wave Rock it will take you about three hours by car. Gps told us we would have needed 5 hours to get to Hyden but considering the easy traffic ( no other vehicles on the road! ) and the straight roads of which you can drive 110 at almost each of them, it took us only 3.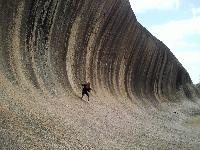 Surfing Wave Rock
We arrived at Wave Rock around 12.30 and there were a few turists but you can easily take a hundred of photos of the rock without feeling you have to hurry.
The rock itself is pretty amazing as its under part is completely eroded and makes the upper part bend over like a huge wave ready to break. The colors are also really beautiful and the entire rock is painted with red and dark brown stripes formed by minerals as water, when it rained at Wave Rock.., rolled down the rock and left its trails.
There is also the opportunity to clime on top of Wave Rock which you should do because of 1: the amazing panorama and 2: to check out the incredible flora and fauna you'll find on the top. Water pools created by eroded parts of the rock attracted all kinds of plants and wild flowers and those again attracted a wide range of bird life and reptiles.
When you're surfing on the rock it looks not too tall but once you're up there it does!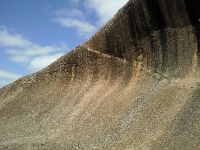 Wave Rock Australia
From the top you can easily slide down the sides of Wave Rock to return to the wave or to continue your walk around it.