December 17th, 2010
Here are some pictures of my holiday in Tanzania. Together with my boyfriend and two of our best friends we had planned this wildlife safari adventure and had a great time.
We travelled in October which I found a good period to travel eventhough some people told us springtime would have been better to spot the newborn animals.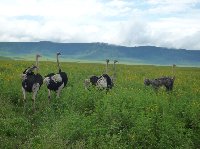 Travel Tarangire National Park
We did several jeep safari tours in the Tarangire National Park, the Ngorongoro National Park and also travelled some parts of the south of Tanzania.
It was an amazing travel experience I'll never forget and Tanzania really is a beautiful part of Africa.